We are all proud to provide better technology solutions that advance your business. Our success is our reputation.
JACON is a European software development company, specialized in delivering solutions and services focused on DVB-related operations.
Our main product CSMS (Customer & Subscription Management Suite) is a cost-effective, flexible and easy-to-use solution for pay-TV and broadband operators. It is tailored to fit the specific market needs and technology environment.
Our team of committed professionals supports its customers across Europe, Africa, Asia and the Americas. We have 15 years of experience in consulting in digital pay-TV services and solutions.
Established in 2009, the company is based in Czech Republic.
Meet our CEO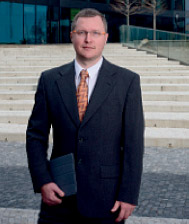 JAN SLAVIK is the founder and CEO of JACON. To Jan, customer satisfaction and advanced reliable technology are what JACON is all about. Jan founded JACON with the objective of creation a unique and independent software development company that places innovation and quality at the first place. As a company understanding the customer's business and developing products and services, which can support and add value to customer's business.
The most important thing for Jan is to understand and meet customer's needs. As soon as an agreement is in place, the first priority is the best quality of delivered services as well as timing and budget. His philosophy is that customer holds the key to any successful business.
Jan's comes with innovative ideas, set clear and inspirational goals, brings strategic thinking, and develops business strategy and vision.